How to eat Makhanas for Weight Loss
By
Sanya Bajaj
- 26 May 2020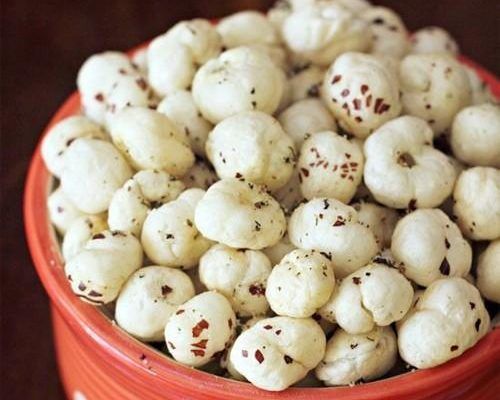 Makhanas, or fox nuts have become one of the popular evening  snacks which you can munch on happily because they are quite low in calories. If eaten in the right quantity and the right manner, makhanas can help you in weight loss as 50gms of dry-roasted makhanas has 180 calories and no saturated fat or sodium at all. Also they are rich in good carbohydrates , proteins and has anti-inflammatory and anti-ageing properties.
Though a variety of options are available in the market but  eating home-roasted makhanas is a better as artificially-flavored or packed makhanas are high in salt and trans-fat.  Since makhanas are low in calories and sodium, the number of calories your makhana snack is going to have is determined by your cooking method. So, here are some popular ways to eat makhana for weight loss.
1. Dry Roasted Makhana
Put makhanas on a non-stick pan and roast them on a low flame till they look a little brown. Carefully control the flame, so that the fox nuts doesn't burn. Once they are cooked transfer the fox nuts in an air-tight jar or bowl and keep the container in a dry place.
2. Makhanas Roasted With Ghee
Add makhanas in a microwave friendly bowl and put few drops of ghee and salt as per taste and roast them  for 30 seconds. Make sure you  check them after every ten seconds.
3. Flavoured Makhana
If you just can't eat plain makhanas, you can give flavor them in a healthy way. All you need to do is roast the makhanas in ghee and add flavor in them with natural spices and condiments like mint leaves, curry leaves, coriander powder, garlic powder, turmeric powder, green chilies, etc. You can also add peanuts or cashews and almonds to the mix to add a bit more crunch and nutrition to the snack.
 Though makhanas are quite healthy for weight loss but portion control is important. Have makhanas as mid-meal snacks to take care of ill-timed hunger pangs only and not as a complete meal.