Benefits of Eating Poha
By
Harshita Sehgal
- 8 June 2020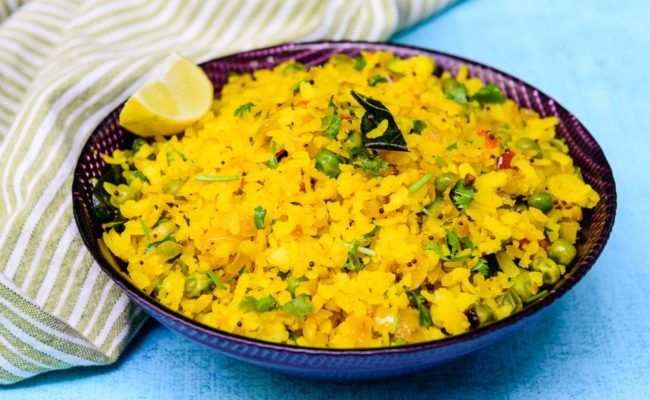 Poha is one of the much loved Indian breakfast and there are different ways to eat it. Whether you eat it in traditionally cooked form with peanuts and curry leaves or you mix namkeen, it always tastes delicious. The best thing is that along with a rich taste, it has a good nutritional value as well. Poha contains a high amount of protein, fiber, vitamins, carbohydrate and iron, all these nutrients not only promote weight loss but also provide many health benefits.Check out some of them below:
We all know that poha is light on the stomach and it can be easily digested. Therefore, eating it as a first meal in the morning can improve digestion. Better digestion helps in keeping your weight under control, it also reduces the problem of bloating and keeps the stomach full for a longer period of time.
This superfood contains 76% of carbohydrates and about 23% of fats so it is a good breakfast option as these healthy carbs provide energy to the body to perform daily tasks without giving any extra fat.
Poha contains quite low calories, one bowl of poha has just 250 calories and if you put in veggies, it becomes rich in minerals, vitamins, and anti-oxidants. If you want to lose weight then skip adding peanuts and potato in Poha.
Controls blood sugar levels
As poha is rich in fiber it promotes a slow release of sugar into the bloodstream which ultimately regulates the blood and sugar levels in the body. It is considered to be a beneficial meal for diabetic people as well.
Since it is made by parboiling rice and is dried in sun as well so the finished product undergoes fermentation and hence retains the microbial flora from the half-digested carbs and proteins which is healthy for the gut.
Doing exercise and dieting is equally essential for weight loss.