Risks of Eating out in a Restaurant During this Pandemic
By
Prashansa
- 26 June 2020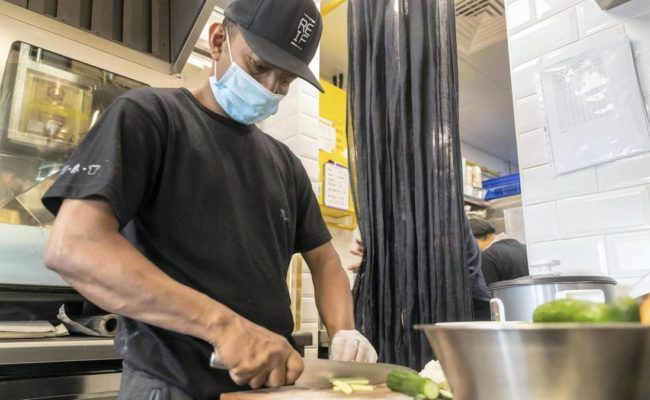 As the unlock phase has started, restaurants have opened up for the customers after almost 3 months. People were excited to see their favorite restaurants resuming operations and the restaurants also assured that necessary precautions will be taken. One fact that everyone overlooked was that the number of COVID-19 cases still remained on the rise. 
Contact tracing is becoming increasingly difficult and with people heading out to restaurants, the risk of contracting the infection only increases. Although the precautions are being taken, there are many risk factors that you should consider before heading out for meals frequently. Here are the risks you should know about. 
Removal of masks while eating 
While it is completely safe to have takeout food at home, the same can't be said for eating in the restaurants. Removing your mask in public places can increase the risk of contracting infection and longer you stay without it, more is the risk. 
Strangers touch many common surfaces 
Employees at restaurants and even the people will try their best to follow all the safety instructions but is it really possible to keep your hands off every surface and keep sanitizing it every few minutes? You can't be sure of who has touched what and whether or not they are carrying any infection. 
Coming in contact with strangers 
Social distancing rules will be practiced but you can't keep things under control if the place gets crowded. Even if you are seated away from people, you are likely to cross so many people while moving inside the restaurant. 
Coming in contact with asymptomatic people 
It takes time for the virus to show symptoms and the affected person may be infectious during this period. Contact tracing is becoming hard so it would be hard to locate all the people who came in contact with an infected person and that can be a problem. 
Here is why you should skip dining in your favorite restaurants for now. Takeaways are safer than going out for a meal as the food can be heated, wrappers can be removed and you can sanitize everything so be assured. You will also feel safer and know for sure who came in contact with your food once it was delivered.